If your society or organization needs a speaker, several programs are currently available. Lectures are generally 50-60 minutes in length. Each of the following lectures is provided as a multi-media presentation incorporating a host of graphic illustrations and case study material meant to teach, entertain, and challenge participants:
Foodways to Freedom: African Heritage Entrepreneurs in 18th &19th Century.
Sable Soldiers: The African Heritage Experience in WWI
Legacies of Slavery & Freedom: A Family Journey Through the Atlantic World
Where Do We Go From Here? Civil War & Reconstruction and What America Can Learn Today
More Than Chattel Property: African Heritage Experience in Early America
Stories In Stone: Colonial Slave Cemetery in Newport, RI
Eyes of Glory: An American Story of Faith, Family & Freedom
New Tricks for Old Sites: Developing & Implementing Heritage Tourism Programs
American Irony: Slavery & Religious Freedom in Colonial America
Africa's Children in Early Rhode Island
Delivering a Compelling Visitor Experience
Religious Tolerance vs. Freedom: Jews in Colonial Newport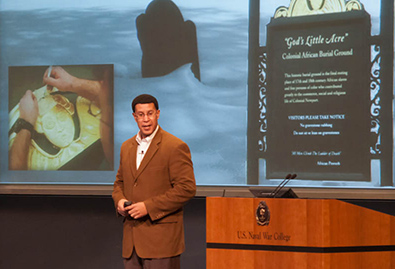 Our team has been keynote speakers at historical societies, universities, civic groups and genealogical organizations throughout the United States and Caribbean including:
National Trust for Historic Preservation
United States Naval War College
Daughters of American Revolution
Southern Jewish Historical Society
Touro Synagogue Foundation
Priscilla Project, Charleston, SC
Barbados National Trust
Bahamas Chamber of Commerce
The Gilder Lehrman Center for the Study of Slavery, Resistance, and Abolition
Paul Cuffe School
United States Consulate – Dominican Republic
Brown University
Yale University
Providence College
Rhode Island College
University of West Indies at Mona
University of Rhode Island
Roger Williams University
Salve Regina University
Community College of Rhode Island
Southern Jewish Historical Society
As well as schools, church and temple organizations, and private organizations.