Our Portfolio
1696 HERITAGE GROUP WORK PROJECTS
Our clients are an essential part of our portfolio of work whether we simply provide research direction or actively team to design interpretive programs and events. We are proud of our ability to partner with our clients from historical societies and education intuitions to community and civic organizations to meet project objectives while also contributing to the wider knowledge of interpreting Ethnic History and Culture. An example of our recent work includes the following:
PUBLIC FUNDED RESEARCH & INTERPRETATION WORK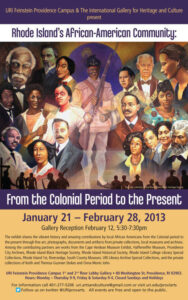 "Rhode Island's African-American Community: Colonial Period to Present"
University of Rhode Island Gallery Exhibit
Rhode Island Black Heritage Society 2014
The exhibit shares the vibrant history and amazing contributions by local African Americans from the Colonial period to the present through fine art, photographs, documents and artifacts from private collections, local museums and archives.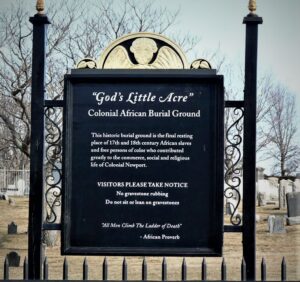 "America's Colonial African Cemetery: God's Little Acre"
Newport Historical Society 2015
Rhode Island State Council for the Arts funded project to research, design and present an online narrative and web based repository of historical information on the oldest and largest existing African heritage cemetery in America.
Researched, designed and produced online exhibit, web site, database and public lecture series presenting the restoration and interpretation of the oldest and largest existing, enslaved and free African burying ground in America. www.colonialcemetery.com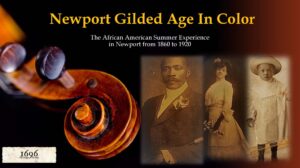 Gilded Age Newport in Color
Preservation Society of Newport County 2016/2018
Rhode Island Committee for the Humanities grant to researched, designed and produced an online exhibit and public lecture series on the experiences of African American families working, worshipping and living in Newport, Rhode Island during the Gilded Age era. Partnering public lectures with the Preservation Society for Newport County. www.gildedageincolor.com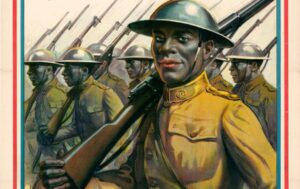 "Sable Soldiers: The African American Experience at Home & Overseas During WWI"
Rhode Island Historical Society sponsored public lecture & Exhibit
Rhode Island Black Heritage Society 2017
Researched, designed and produced online narrative and database along with a multimedia lecture series on the experiences of African Americans at home and at war during WWI. www.sablesoldiers.com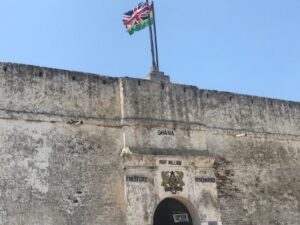 "Legacies of Slavery & Freedom: A Family Journey Through the Atlantic World"
University of West Indies 2016
Newport Historical Society 2016
Rhode Island Historical Society 2017
Historical & Cultural Society of Africa (Ghana) 2019
Researched, designed and produced online narrative with grant funding through the Rhode Island Committee for the Humanities on one of the most documented African slavery, emancipation and reparation efforts in history. www.littleoctober.com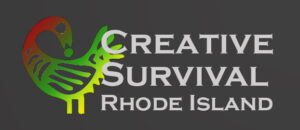 "Creative Survival Rhode Island"
Rhode Island Black Heritage Society 2019
Creative Survival is a collaboration of the Rhode Island Black Heritage Society and 1696 Heritage Group to present history as the collective memory of African heritage people from enslavement, freedom, and beyond. The program provides access to many online narratives on the history of African heritage people in Rhode Island and beyond. www.creativesurvivalri.org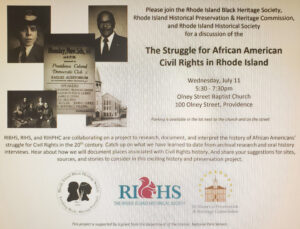 "The Struggle for African American Civil Rights in 20th Century Rhode Island"
Rhode Island Black Heritage Society
Rhode Island Historical Society
Rhode Island Heritage Preservation & Cultural Commission
The project is a collaboration several historical organizations supported by a grant from the National Park Service through its African American Civil Rights Grant Program, which assists projects that "document, interpret, and preserve the sites and stories related to the African American struggle to gain equal rights as citizens in the 20th Century." 1696 Heritage Group acted as lead researcher.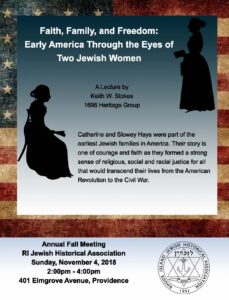 "Faith, Family, and Freedom: Early America through the Eyes of Two Jewish Women"
Rhode Island Jewish Historical Association
A lecture series presenting Jewish American history through primary and secondary documents and family heirlooms from several of the early Jewish families if Colonial and Antebellum America.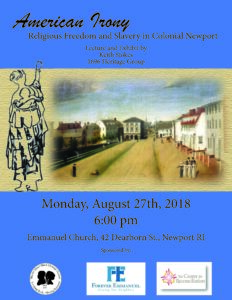 "American Irony: Religious Freedom & Slavery in Colonial Newport"
Emmanuel Church
Trinity Episcopal Church
A lecture and walking tour series presenting the history of religious freedom in early Newport as the Colonial American seaport would develop into the most active slave port in British North America.
LEGISLATIVE ADVOCACY & GOVERNMENT RELATIONS
2014 – State of Rhode Island 1696 Heritage Commission Act
State of Rhode Island
Drafted and submitted for consideration before the Rhode Island General Assembly House Bills (2014-H 7490A, 2014-S 2418A) to establish state commission to develop a comprehensive African-American history curriculum for Rhode Island public schools from kindergarten through grade 12. The law was adopted in June 2014 and the Commission is underway designing history curriculum and professional development program for educators.
Press Release
African American History Resource
2016- State of Rhode Island 1696 Heritage Commission
Rhode Island Secretary of State
Rhode Island Historical Society
Drafted Curriculum Work Plan and Request for Proposal for state commission charged with developing African American history curriculum for K-12 public schools.
Part 1, 1696 Historical Commission Report (LINK)
Part 2, 1696 Historical Commission Report (LINK)
PUBLIC LECTURES & HISTORICAL PRESENTATIONS
2009 – African American Heritage Tourism as an Economic Development Tool
National Trust for Historic Preservation Annual Conference
2010 – A Forgotten History: Slavery in New England Lecture
Brown University Scholars Online
2012 – Touro Synagogue Visitor Center Plan
Touro Synagogue Foundation
George Washington Institute for Religious Freedom
2013 – Researching & Interpreting Black History
National Endowment for the Humanities SUMMER INSTITUTE
Rhode Island Historical Society
2013 – Africans In Early Rhode Island
Linden Place Museum, Bristol, RI
2013 – Faith, Family & Freedom in Colonial Jewish Newport
Jewish Genealogical Society of Greater Boston
2014 – Stories in Stone: America's Colonial African Cemetery
Unity Center at Rhode Island College
2014 – Here And 'Over There": African American Rhode Islanders During the WWI Era
Rhode Island Historical Society
2014 – American Irony: Religious Freedom & Slavery In Colonial Rhode Island
Humanists of Rhode Island Committee
2014 – Stories in Stone: African Cemetery in Newport, Rhode Island
African Alliance of Rhode Island
2014 – Pirates, Privateers & Slavery in Colonial Rhode Island
Naval Order of the United States
2014 – Stories in Stone: Colonial Slave Cemetery
Rhode Island State Libraries Association Conference
2015 – Gilded Age Newport In Color – A Lecture and A Walking Tour
Channing Memorial Congregational Church, Newport, Rhode Island
2015 – Gilded Age Newport In Color – Lecture
Preservation Society of Newport County, Newport, Rhode Island
2015 – African Libation Ceremony & Walking Tour
African Alliance of Rhode Island
2015 – Walking Tour of Common Burying Ground
United States War College Public Lecture Series
2015 – Birss Memorial Lecture Series: Reading "Native Son" In The 21st Century
Roger Williams University
2016 – Faith, Family & Freedom in Early Jewish America
The Vilna Shul: Boston Center for Jewish Culture
2016 – More Than Chattel Property: African Life & Achievement In Early Rhode Island
Providence College
2016 – First Steps: An Exploration of African American History In Rhode Island
Rhode Island College
2016 – Sable Soldiers: African American Experience at Home and Overseas During WWI
United States War College Public Lecture Series
2016 – More Than Chattel Property: Interpreting African Heritage as Inclusive History
Rhode Island Statewide Historic Preservation Conference
2016 – A Family Journey Through the Atlantic World
University of West Indies, Jamaica
2017 – Little Liberia Journey
Mary & Eliza Freeman Center, Bridgeport, Connecticut
2017 – American Irony: Religious Freedom and Slavery in Colonial Newport
Yale University Art Gallery
2017 – American Irony: Religious Freedom and Slavery in Colonial Newport
Historic Huguenot Street, New Paltz, NY
2017 – God's Little Acre Walking Tour
Salve Regina University Annual Historic Preservation Conference
2017 – Bridgeport's Little Liberia Journey
Bridgeport Arts & Cultural Council
2018 – America's Colonial African Burying Ground
TEDx Talk Newport
2018 – The Struggle for African American Civil Rights in the 20th Century
Cogndon Street Baptist Church Public Lecture
2018 – African Heritage Enslavement & Freedom in Colonial New England
Connecticut Humanities Public Symposium on the Humanities and the Sea
2018 – New Tricks for Old Stories
Historical Writers of America Annual Conference
2019 – Faith, Family & Freedom in Early Jewish America
Rhode Island Jewish Historical Association
2019 – Sable Soldiers: African Experience at Home and Overseas During WWI
Bridgeport, Connecticut Public Library & School Department
2019 – Gilded Age Newport In Color Walking Tour & Historic Sites Review
Society of Architectural Historians Annual Conference
2019 – African Craftsman in Colonial Newport
Newport Restoration Foundation
2019 – The History of Diversity, Innovation and Productivity In Rhode Island
CVS Public Lecture Series
2019 – A Family Journey Through the Atlantic World
Historical Society & Cultural Association of African Annual Conference, Ghana
2020 – Stories in Stone: America's African Burying Ground
National Education Association, Rhode Island
2020 – The Struggle for African American Civil Rights in the 20th Century
Rhode Island General Assembly Black History Month Celebration
HISTORICAL EXHIBITS
1696 Heritage Group researches, plans, designs and manages exhibits that blend historic artifacts, exhibit banners, multimedia platforms and interpreted signage. Recent exhibits include: