Southern trees bear a strange fruit
Blood on the leaves and blood at the root
Black bodies swingin' in the Southern breeze
Strange fruit hangin' from the poplar trees
Lyrics from "Strange Fruit" by Billie Holiday, 1939
---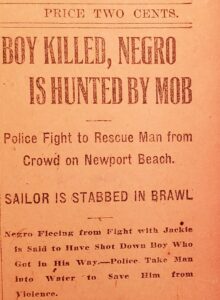 Newport, Rhode Island in 1913 was a city in transition. In February of that year, Congress would ratify the 16th amendment establishing a Federal Income Tax bringing the Gilded Age that propelled much of Newport's summer colony economy to a crashing end. The world was inching slowly to a devastating world war, with Newport's navy base and army fort rapidly growing with scores of armed servicemen coming from all parts of the country. And the early 20th century would also see the initial stages of two decades of a great migration where more than one million African Americans moved out of the South to cities in the North, Midwest, and West including the Charles Bradley Smith family from South Carolina to Newport.
According to the Tuskegee Institute, 4,743 people were lynched between 1882 and 1968, and lynchings were the most frequent between1890 and 1920. Of the people that were lynched during that time, 72% were African heritage men and women. Yet, Rhode Island is one of five states that had no lynchings during that dark era within American history, though it came close one July 4th evening.
During the sweltering heat of the 4th of July in 1913, Newport, at its popular Easton's Beach, came very close to joining the widespread club of American violence. As reported by various news sources, a mob estimated at 5,000 men, women and children chased a 20-year-old Charles Smith across the beach with cries of "lynch him," with reports that "women became infuriated and screeched themselves hoarse."
The cause of this wild mob violence was connected to an altercation between Smith and several white sailors with reports that during the fight Smith stabbed one of the sailors and as they chased after him down the beach, he turned and fired a single shot from a revolver that tragically struck and killed a 13-year-old William Egan, Jr. Once word had rapidly spread through the beach about a killing of a white boy by a Black man, shoreline revelers, comprised of men, women, and children were transformed into a raging mob seeking immediate vengeance and public justice. Fortunately, several police officers on the scene quickly took Smith to the Beach office to call for backup and a patrol wagon to escort Smith to the police station on Market Square. The mob surrounded the beach office and broke all the windows with bricks and attempted to break down the door when additional police arrived with guns drawn and managed to place Smith into custody. As the police escorted Smith from the beach traveling up Bath Road to the police station, a crowd of thousands chased after them. Once at the station, Smith, for personal and community safety reasons, was transported to Providence.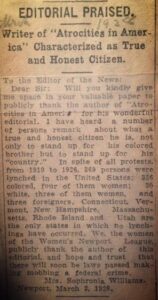 A Grand Jury indicted Smith for the killing of the young boy. Smith's attorney was Julius L. Mitchell, one of Rhode Island's early Black and civil rights attorneys and he was successful with moving the trial from Newport County to Providence County to ensure some semblance of a fair hearing. While the first trial ended in a hung jury in December 1913, Smith was convicted of manslaughter at the second trial and sentenced to life in prison.
In 1921 Republican Lt. Governor, Emery John San Souci was elected Governor of Rhode Island, in large part due to the strong support of women voters. These women voters led by the Women's League of Newport and the growing networks of African American women's clubs across the country were also instrumental in raising funds to support anti-lynching campaigns and fair justice systems. The year after his election, he secured a pardon for Smith, who had already served seven years in prison.
If there were any lingering resentments expressed by Newport citizens from the events of that dark 4th of July in 1913, it did not deter Smith from returning to Newport where he would marry, raise a family working as a chauffeur, and reside at 14 Pearl Street. Smith would also become an active member of the Boyer Masonic Lodge and live a reasonably peaceful life in Newport.
Because of the quick action of Newport police officers, Rhode Island would not become a part of a dreadful lynching statistic that was sweeping across America during that time. A tragic event that claimed the life of an innocent boy, could have easily escalated into a social calamity that would have engulfed an entire community with racial riots and property destruction.
Painful memories such as this unfortunate event from 1913 Newport history may be distressing to relive, but it serves to remind us that law enforcement and the political system can be fair, even in the heat of those embracing mob justice. It is important that we learn the lessons of history, warts and all, so that we can make better decisions in the present and the future.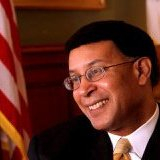 Latest posts by Keith Stokes
(see all)