On this day August 1, 1834 the United Kingdom abolished slavery throughout the British Empire, nearly 30 years before the American Emancipation Proclamation. While British plantation owners received substantial financial compensation for the loss of their slave property, former enslaved African heritage people received nothing. Freedom without reparations. Regrettably, newly freed Africans across the Americas replaced the old chains of slavery with the new restraints of discrimination and segregation. This socio-economic burden would follow far too many persons of African descent even to this very day.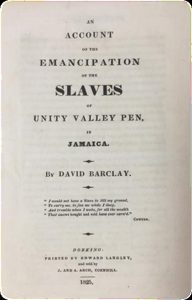 Possibly the most important effort towards slavery reparations , unmatched then and hardly recognized today, took place in 1795 when a group of twenty-eight recently emancipated Africans from Jamaica arrived in Philadelphia under a creative and organized plan to provide a form of reparations – for the personal suffering placed upon enslaved Africans by the owner class of Europe and the Americas.
Quaker David Barclay of Great Britain, recognized today as the founder of Barclay's Bank, acquired through a settlement of a debt a plantation in Jamaica called Unity Valley Pen.
As a stanch Quaker and Abolitionist, Barclay was driven to not only free the slaves he inherited in faraway Jamaica, he underwrote an international reparations plan connecting Great Britain and Jamaica with Philadelphia, which that at the time had the largest free Black community in the Americas. Barclay had long family ties with Philadelphia and its Quaker community becoming an early member of the Pennsylvania Abolition Society under friend Benjamin Franklin's leadership.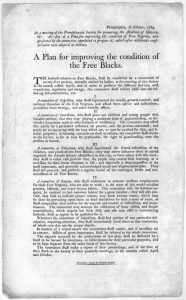 At the direction of Barclay his agents in Jamaica transported the emancipates to Philadelphia arriving on July 22, 1795. The newly freed were placed in the care of the Quaker Abolition Society who had adopted a formal reparations plan entitled, "A Plan for Improving the Condition of the Free Blacks." The group was initially clothed and cared for through Rev. Richard Allen and the Mother Bethel AME Church and Rev. Absalom Jones of the St. Thomas African Episcopal Church. St. Thomas is the first African Episcopal Church in America founded in 1792. Mother Bethel is the first African American AME Church in America founded in 1794. Each of them were set up with access to education and in a trade skill, many as indentured servants with members of the Quaker community.
One of the youngest members of the newly arrived Jamaicans was a boy of eight named October, my great, great grandfather. Upon his arrival to Philadelphia he was renamed Robert Barclay and indentured for thirteen years as a "Windsor Chair Maker." Robert Barclay would become a successful businessman and active member in black masonic and civic organizations including the Underground Rail Road that was active in the years leading up to the Civil War.
Today, I am blessed to have many heirlooms from the Barclay family household of Philadelphia including an original 1872 printing of the "Underground Railroad" by William Still. I also have been able to follow subsequent generations of Barclay family members into the 19th and early 20th century America as they continued their journey of freedom and prosperity. A journey made possible through an organized effort to provide my ancestor the access to education, training and opportunity that was denied so many other African heritage people.
So what is the value of emancipation and freedom without some method of reparations so that the oppressed have equal access to the means to become self-sufficient? As we celebrate the history of emancipation across the Americas we should also be mindful that emancipation without repairing the hundreds of years and many generations of African heritage people who suffered greatly under that peculiar system is at best, an unfinished effort or at worst, freedom without meaning. Maybe famed African American abolitionist, Fredrick Douglas knew this when he stated in 1876:
"You say you have emancipated us…But when you turned us loose, you gave us no acres. You turned us loose to the sky, to the storm, to the whirlwind, and worst of all, you turned us loose to the wrath of our infuriated masters."
Latest posts by Keith Stokes
(see all)