149th Annual Memorial Day Ceremony, Warren Rhode Island
THE WORLD OF WILLIAM BARTON & JACK SISSON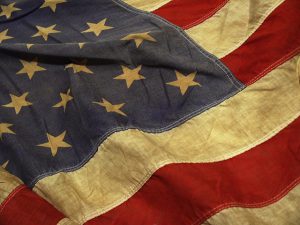 Let me begin with; there may be no more noble a cause than the men and women of the Armed Services who routinely place their lives in danger for our safety and benefit. I dedicate my remarks to those men and women, particularly those who died while serving our state and country. Without them, we wouldn't be free.
It is a special honor for me to address you today since I have not only grown up in nearby Newport, but my very own family heritage includes persons who have served and fought for America through nearly every major conflict for freedom. This family legacy started with two six-time, great grandfathers in the American Revolution. A great grandfather who was the first man to raise the federal flag at the fall of the Confederate Capitol at Richmond during the Civil War. A great uncle who served as an officer with the 372nd Colored Regiment in France during WW1. And every Memorial Day, like today, I especially remember my uncle, a Rogers High School graduate in Newport, who would serve and die for his country as a famed Tuskegee Airmen while my father and other Newport uncles served in North Africa, Belgium and Italy during WW2. And my own daughter, who served as an officer in the United States Army.
My brief address this 149th Memorial Day Remembrance here in the historic Town of Warren will be about the World of William Barton and Jack Sisson, two Rhode Island men who's daring exploits in July 1777 crossing Narragansett Bay under the cloak of darkness and capturing British Major General Richard Prescott would become a major exploit during the American Revolution. One man was white, the Warren born William Barton, and the other man an enslaved African name Jack or Tack owned by the Sisson family. Two Rhode Island men, white and black, free and enslaved, that would come together in defense and birth of a new nation.
But it is equally important to know that the World of Barton & Sisson was one of irony. The Colony of Rhode Island would be founded in 1636 under the concept of religious toleration attracting many of the most persecuted religious minorities within both old and new worlds. Paradoxically, as Rhode Island would become an early American haven for religious freedom, the colony, particularly at Newport, would also become one of the leading slave ports in British North America. And as America and Rhode Island would head towards war and independence, a poignant letter was posted in the Newport Mercury Newspaper in 1768 signed by "A True Son of Liberty" stating
"If you say you have the right to enslave Negroes, because it is for your interest, why do you dispute the legality of Great Britain enslaving you?"
Now I will suggest to everyone on this day of remembrance, the combined actions of Barton and Sisson that July evening in 1777 begins the long, hard American journey to personal and national freedom. And one of the most important lessons to take away from Rhode Island and America during the American Revolution is that we all – black and white, slave and free, native and immigrant, rich and poor, north or south, struggled together to build a new nation. And our strength then was the interdependence of a people who literally lived, worked, worshipped and fought together.
For it is the very essence of what it is to be an American as best expressed by our country's motto, "E pluribus unum" or Out of many – one. Or maybe more appropriately stated, out of many peoples, races, religions, languages, and ancestries has emerged a single, interdependent people and nation.
Today, we need to reclaim that level of interdependence. Each and every one of us today should ask ourselves, how much do we interact on a daily basis in our Rhode Island lives with someone from a different race, religion and ethnicity? While racial separation was once a law in the past, it has become a choice in the present. We have a lesson to learn from men like Barton and Sisson, that strength is truly achieved through unity. This is not being more liberal or conservative, but simply being more human.
And as we remember those who came before us on this day and return to our daily lives, we should join the late, great Dr. Martin Luther King who stated:
"We have flown the air like birds and swum the sea like fishes, but have yet to learn the simple act of walking the earth like brothers."
Our future is bright because of the heroic efforts of Rhode Island men like William Barton and Jack Sisson who fought and died for our futures not as white and black Americans, but as Americans.
Thank you for this opportunity to share this brief, but important history of Rhode Island and America. God bless America and God bless the memories of Rhode Island heroes Barton and Sisson, and all those who served, and continue to serve our country in the Armed Services.
©Keith Stokes, 2017
Latest posts by Keith Stokes
(see all)