As someone whose family members date back to the early formation of America, and not always looking like, worshipping like, living like and fitting neatly into what history books would commonly refer to as the early American experience, I have to depend upon my own ancestral accounts to help me understand what America was like for people representing minority racial, religious, and ethnic history. In my case, I am thankful to have many primary documents and heirlooms that recount my American story, and unfortunately, from a perspective that far too many history books have omitted.
Women have made significant contributions to the advancement of our early American culture, not as conquers of land and people, founders of governments and champions of industry, but in many cases the primary source of sustenance for family, home and community. These accomplishments are all the more important when recognizing that throughout most of history, women had fewer legal rights and livelihood choices than men.
My family history has been shaped by many people, places and events over a 300 year period in America, but three women stand out. Because of these women, who had to overcome the prevailing myth of the natural inferiority of women, my family was not only able to survive, but live and prosper in one of the most difficult times and places for persons of African heritage; Antebellum Era Richmond, Virginia. A state that by 1860 had the largest enslaved population in America.
During the early history of America, a man effectively owned his wife as he did his material belongings. Basic American rights that are largely taken for granted today, owning property, earning wealth, voting and employment choices were nearly unheard of for 19th century women. Nevertheless, sisters Slowey and Catherine Hays along with their lifelong friend Excy Gill would live their lives as strong and independent women who would challenge early American systems of racial, religious and sexual intolerance.
Slowey and Catherine Hays, from Newport, Rhode Island were born in 1776 and 1779 respectively, the youngest daughters of Moses Michael Hays, a prosperous merchant and banker. During the American Revolution the family relocated to Boston and joined their first cousins Judah and Abraham Touro as part of the earliest Jewish families in America. In 1790 they were present at Touro Synagogue when President George Washington visited Newport and presented a letter to the congregation expressing a bold vision for our new country that "Happily, the Government of the United States, which gives to bigotry no sanction, to persecution no assistance, requires only that they who live under its protection should demean themselves as good citizens in giving it on all occasions their effectual support."
Growing up during and after the turmoil of the American Revolution and living within a family that preserved its religious identity despite the prevailing bigotry of the day, the sisters formed a strong sense of personal and religious justice for all. While in Boston, the Hays family employed a young Irish servant girl who was also born in Newport in 1780, named Excy Gill. A close and life-long friend of the Hays was the Revered Samuel May, a leading Unitarian Minister, Abolitionist and uncle to the famous author of "Little Women," Louisa May Alcott. Later in life, May recounted in his memoirs, "Both Uncle and Aunt Hays (for so I called them) were found of children, particularly me; and I was permitted to stay with them several days, and even weeks together. And I can never forget, not merely their kind, but their conscientious care of me. I was the child of Christian parents, and they took especial pains that I should lose nothing of religious training so long as I was permitted to abide with them. Every night, I was required on going to bed, to repeat my Christian hymns and prayers to them, or else to an excellent Christian woman who lived with them many years." That Christian woman, Excy Gill would live her entire life with Hays family members, particularly Slowey and Catherine.
The sisters, along with Excy, relocated to Virginia around 1806 to join their older sisters and their husbands who were members of the early Jewish community in Richmond. The three women would live in a large, double home adjacent to Moses and Sally Myers and their three daughters, Catherine, Harriet and Julia Myers. With the inheritance left to them by their father, Slowey and Catherine lived comfortably in Richmond, frequently investing in the most prominent stocks and bonds of the day. Both became early members of Congregation Beth Shalome and subscribers to the Occident, the first Jewish newspaper in America. Described as deeply religious, strong-willed and independent, Slowey and Catherine were at constant odds with other Southern family members over the issues of slavery, maintaining their Jewish faith and managing their own business affairs without male influence.
In a 1913 memoir of the Hays and Myers families, Slowey is described as "very witty and brilliant woman," and that Catherine was less attractive and weak where "the Jewish type was distinctly marked." Excy Gill is described in detail in the memoir as someone "who had been employed by the Hays family in Boston and who followed the fortunes of Miss Slowey and Miss Catherine when they removed to Richmond." The memoir continues with a description of Excy Gill's physical features stating she was, "Very tall, very spare and sallow, and with an utter disregard of feminine vanities. She wore a short, black gown, cut low enough in the neck to display her large collar bones, with sleeves always rolled up above the elbow, showing her gaunt, sinewy arms; wearing a man's broad brimmed straw hat, set down well over her rough grizzled locks, completed her costume."
By 1831 the Nat Turner Rebellion in Virginia would cause great turmoil, ushering new laws that would not only further subjugate the lives of the enslaved, but also require that all free persons of color to leave the state by the age of twenty-one. At the time, the Hays sisters were caring for a young boy of eight named Richard. He was the offspring of a free woman of color who worked and lived in the Myers household named Nelly Forrester and the Hays sisters' young nephew, Gustavus Myers. Even though Richard was born free, as a person of mixed heritage he would be required to register and possibly be forced to leave his home and state at the age of twenty-one. Young Richard Forrester was lovingly raised and cared for by the Hays sisters and their friend Excy Gill. He was taught to read and write, and along with his mother, lived with Slowey, Catherine and Excy in the double house. But with the new laws fueled by the fear of slave insurrection, young Richard's life in Richmond became a great uncertainty regardless of free birth and family support. This concern would be met head on by the direct actions of Slowey, Catherine and Excy.
In 1832, Slowey Hays declares her last will and testament, at the time one of the largest estates left by a Virginia woman. In the will, drafted and executed by her nephew Gustavus Myers, she not only leaves nearly all of her estate to her sister Catherine, but also sets up an innovative legal procedure that affirms young Richard as a servant under unknown ownership so he could not be removed from his home and state. Slowey's will specifically proclaims:
"This is my last will, wishes and directions within the terms of law that at my death, my sister Catherine Hays, daughter of Moses M and Rachel Hays shall come into possession of all I have in this world, namely stocks of every description, cash, plates, books, household furniture, and fixtures of every kind. I again repeat, all and everything my sister Catherine must take as her own without reserve as I request of her, and if she should die when I do, I desire two thousand dollars may be presented to Excy Gill our faithful friend and servant. And that Richard, the son of Nelly may be purchased and his freedom given him, if his owner or owners consent with, fifty dollars yearly during his life. I desire to be conveyed to Newport, and to be placed in the family enclosure with a plain marble monument erected in my memory. In perfect health of body and mind I sign this paper."

Slowey died in 1836 and Richard continued to live with his mother Nelly along with Catherine and Excy. By the time of Catherine's death and will in 1854, Richard was married and raising his own family as a prosperous dairy farmer and contractor. Catherine's will, like her sister Slowey, would leave very specific instructions for both Excy and Richard stating:
"….. I give and bequest to my faithful friend Excy Gill, the sum of six thousand dollars, and I request that every member of my family to treat her with the kindness which her long services and great friendship have provided to me. …..I desire my Executor to purchase the freedom of Richard, a slave, the son of Nelly Forrester, when he shall obtained the age of twenty one years , if his owner or owners consent, he shall receive his freedom under the terms of the laws of Virginia then in force and for that purpose. I hereby direct that the sum of one thousand dollars be appropriated accordingly by my Executor and that said sum of one thousand dollars shall be more than sufficient for Richard….."
The over 30 years of protecting and providing for the Forrester family would become an accepted, but curious circumstance in a city that would soon become the Capital of the Confederacy during the Civil War. Myers family members would remark in surprise that the Hays sisters and Excy Gill with their "Abolitionist Principles and Boston Prejudices"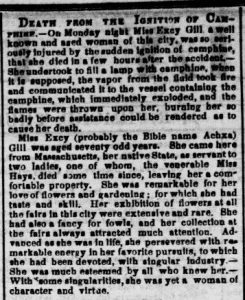 would claim to own slaves, "treating them with absolute equality." Excy Gill, the lifelong friend of the Hays sisters and family would tragically die in a fire in 1855. In her obituary, she is fondly remembered by family and for her prize winning displays of flowers and rare fowls at city exhibitions. In her will, like Slowey and Catherine before her, she makes an extraordinary investment in Richard, his wife Narcissa and their young children in the tumultuous years leading up to the Civil War. Excy Gill in her will would follow the guidance set by Slowey and Catherine before her by declaring:
"I, Excy Gill of the City of Richmond in the State of Virginia, do make, publish and declare the following as for my last will and testament, to give and bequest my slave, Narcissa, the wife of Richard Forrester, to misses Catherine Myers, Harriet Myers, and Julia Myers in absolute property knowing that she will be well and kindly taken care of and I emancipate and free the children of the said Narcissa being Lucretia, Wills, Richard, James, William, Mary, Alexander, Charles and Ellen, all of which children are now of tender age and for the purpose of furnishing them a home,

until they shall obtain the age at which by the law they must leave the State of Virginia, until then they be lawfully permitted to remain therein, I give and direct to them the house and lot belonging to me in the City of Richmond located on College Street. All the rest of my estate of every description, I give and bequest to the said children of my said slave Narcissa, to be equally divided between them, share and share alike."
Through the love, caring, and ingenuity of Catherine, Slowey and Excy; a free man of color and later his wife and children would have the opportunity to not only remain in their home city and state, but also prosper through a time of lawful slavery, a slave insurrection, and a civil war. As an adult, Richard became a successful business and political leader serving as the first man of color on the Richmond city council and school board leading the efforts to promote equal opportunity and access for all newly emancipated African Americans immediately after the Civil War. Forrester children and later generations would become accomplished business persons, doctors, lawyers and significant contributors to a more equal and prosperous America.
Richard Gustavus Forrester, my great, great grandfather and his family, despite being born into and living within one of the most difficult times and places for persons of color, survived and prospered through the love and vision of two Jewish sisters and their Irish friend. The fond memories and names of these important women have been passed on through many generations of my family, including my great grandfather, Richard Gill Forrester and his sisters Catherine and Excy Gill Forrester.
As we seek the answers today on how to resist religious intolerance and to make "Black Lives Matter," maybe we need to follow the example of Slowey, Catherine and Excy – loving charitably; with a blind eye towards differences, whether it be race, religion, or status. As aptly extolled by Elizabeth Barrett Browning one of the 19th century's most prominent women poets, "I love you not only for what you are, but for what I am when I am with you."
Further Reading
1. "The History of the Jews of Richmond," Herbert Ezekiel, 1917
2. "The Jews of Boston," Jonathan Sarna & Ellen Smith, Yale University Press, 2005
3. "A White Black, Jewish Family," Jane Sprague, Rhode Island Jewish Notes, 1997
4. "Black American Series: Richmond, Virginia," Elvatrice Parker Belches, Arcadia Press, 2002
5. "Black Labor in the South: Richmond, Virginia," Peter J. Rachleff, temple University Press, 1984
6. "Notorious in the Neighborhood: Sex & Families Across the Color Line in Virginia 1787-1861," Joshua Rothman, University of North Carolina Press, 2003
7. "A Flag and a Family: Richard Gill Forrester, 1847-1906," Theresa M. Guzman-Stokes, Virginia Cavalcade Magazine, 1998
8. "Records of the Myers, Hays, and Mordecai Families from 1707 to 1913," Caroline Myers Cohen, 1913
9. "American City, Southern Place: A Cultural History of Antebellum Richmond," Gregg Kimball, University of Georgia Press, 2000
10. "Richard Gustavus Forrester," Steve Clark, Richmond Times Dispatch Black History Series, 2002
11. "When Freedom Came," Richmond Free Press, 2015
12. "Between Jewish Tradition & Modernity: Rethinking an Old Opposition," David Ellenson, Wayne State University Press, 2014
Latest posts by Keith Stokes
(see all)